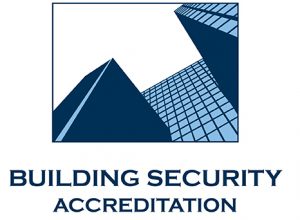 In these uncertain times, the security of buildings and the safety of the people and assets they contain is a priority for the owners and managers of any commercial properties.
Building Security Accreditation (BSA) seeks to recognise and reward the time, money, and energy spent by organisations in creating and maintaining security.
Developed in 2014 by the City of London Crime Prevention Association (CoLCPA) in conjunction with the City of London Police and the City of London Corporation, it is intended as a benchmark – tangible proof – of the commitment of property owners to the protection of their premises, their personnel and the public at large. More than one hundred and fifty buildings have been accredited since its inception.
This security initiative aims to raise the standards of security within multi-occupied buildings, where necessary.
Building Security Accreditation establishes standards in areas such as security training and management, perimeter security and access control, all of which must be met and maintained as a condition of continuing certification.
Criteria
To achieve Building Security Accreditation, applicants will be assessed on the following criteria:
Proof that there are appropriate levels of security for the size and nature of the building.
In buildings where security officers are employed, they must demonstrate that they have completed the appropriate training.
Building to have a co-ordinated evacuation plan and evidence of a testing plan.
Evidence of membership of the City of London Crime Prevention Association (CoLCPA) and how best practice and information is disseminated to tenants / occupiers.
Applicants will need to prove that that number of people trained in these areas is proportionate to the size and nature of the building.
How to apply
BSA is open to all owners, managing agents and security managers of commercial property. It is achievable through a straightforward application and review process. Accreditation is recognised with an award and certificate.
Assessment
The assessment process consists of:
A representative from each building seeking accreditation completes a detailed application form on all aspects of the building's security.
Security of the building will be assessed by a team from the City of London Crime Prevention Association. Where improvements are considered necessary, advice and assistance will be provided.
All applications for accreditation will be reviewed regularly by an independent panel formed from the City of London Crime Prevention Association.
Note: The assessment for this accreditation should not replace your regular audit.
Apply today: Email contact@cityoflondoncpa.org.uk requesting an application form.